Security equipment can help improve the sense of safety at schools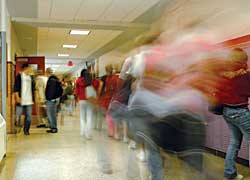 WHEN
a student tried to steal a triple-beam balance from Jackie Steinocker's science classroom, the principal needed the school's surveillance cameras to document the student hiding it in a dumpster.
The student had a friend distract the teacher's attention as he hid the scientific scale under a winter jacket at the end of science class. Steinocker wouldn't have known that the device was stolen from the classroom if another student hadn't told her about the crime.
If such an incident occurred a couple of years ago, educators would not have had a surveillance camera or security system in place to capture the crime. Proving the case against the student would have been impossible without the video capturing him on camera hiding the instrument.
And what if one of the teacher's students hadn't come forward to tell her about the theft? With video as proof, the student was expelled from high school and sent to an alternative school as punishment. The district also is billing him for the damage done to the scientific scale.
Steinocker began teaching science more than 30 years ago, when students didn't take high-valued equipment out of the classroom. In her first teaching job in West Palm Beach, Fla., Steinocker could send discipline cases to a principal for corporal punishment.
Times have changed.
A New Age
Schools today face more problems with violence. One government study projects a 6-percent increase in juvenile violent crimes compared to last year. In one two-week period last fall, three schools had separate shooting incidents resulting in seven deaths. The most tragic of the three incidents was when a 32-year-old gunman shot five Amish students before killing himself in Pennsylvania.
"Federal and state governments are increasingly requiring school administrations to be proactive in providing solutions for violence in schools within current operating budgets," said Jack Walser, vice president of business development for The Learn Safe Initiative.
"If you had told me that when I retired from teaching I would be teaching workshops on school safety, I wouldn't have believed you," said Dave Cowell, a consultant with the Law Advisory Group of Avon, Ohio.
To survive the onslaught of federal guidelines and requirements, school districts must adopt some different policies that integrate equipment, processes and, most importantly, a change of philosophy. District officials also must convince their constituents they have provided safeguards to protect students.
"Student enrollments are dramatically changing," said Mike Garcia, senior vice president of sales and marketing for MDI Security Systems. "Parents today have more choices for selecting a school, and one of the deciding factors is the safety and security of the school."
When Robert Duron, the incoming San Antonio Independent School District superintendent was house hunting, one potential neighbor asked if he had school-aged children. When Duron, according to a published report in the San Antonio Express-News, said he had school-aged children, the neighbor suggested he consider private schools.
Because of the safety and perception about the security of its students, enrollment in the SAISD is dropping. More families are moving north to districts like the Northside Independent School District or North East Independent School District. Enrollments at both of the district's newest high schools are being capped because both are over capacity. For Steven High School, Northside school board trustees are considering a policy that will require students who enroll in the district after May to attend high school at another neighboring school.
Improving the Climate
Security integrators can help school districts like SAISD improve the security climate and, more importantly, the perception of school safety through an integrated approach to addressing possible security concerns.
Walser said school district officials and the security team should consider outside traffic patterns of roads near the school. Both groups also should look at hardening entry points and limiting interior access for students, teachers and staff.
"Today, school professionals must work with security professionals to first identify the problems teachers and administrators face in each district," Walser said. "Once they have completed a survey, both the educational administration and their security professionals must build a policy that helps convey a sense of safety."
Cowell said administrators today have to be doubly aware of every visitor who comes into a school.
"Schools are still in the mindset that a shooting incident can't happen here," Walser said. "Because outside shooters can walk in off the street, school administrators should be always aware of the possibility."
Security professionals also have to help school architects in the planning phase of new school design look at possible security concerns, said Ron Orchid, vice president of operations for Global Systems Solutions.
"Most school architects didn't factor in security devices in their designs 20 years ago," he said. "Now, they have to consider the location of security cameras and the wiring needed to connect the equipment to central reporting stations."
With an IP-based solution, schools can easily install the security cameras by adding the technology to Cat-6 wiring used to hook up a school's computer labs and Internet connections, Orchid said.
Helping Discipline
School districts need to understand how security cameras can help discipline today's classrooms. By not having a security camera in Steinocker's classroom after the one student tried to steal a scale, administrators were forced to rely on outside cameras to locate the student, a process which took two hours of teacher prep time. Had the school placed a working security camera in the classroom, it would have taken just a few minutes to locate the five minutes of video when the teacher last saw the scale and when the student decided to put it under his coat.
"Putting security cameras into classrooms is a controversial concept for some administrators and teachers, but the value in documenting crimes and incidents is unparalleled," Walser said. "If a teacher has turned, and the school bully hit another student, the camera can document the incident to the principal and the student's parents."
Security cameras are not the only solution to make classrooms safer. Walser said school administrators must understand how to use access control products such as proximity cards or readers.
The Learn Safe Initiative executive said schools can use access control products to track the location of each student. The products also can help schools administer daily attendance and manage school lunch programs.
"Students in middle and high school are concerned with status and are sensitive to any stigma that characterized them as impoverished," said Mitch Johns, the president of Food Services Solutions Inc. of Altoona, Pa., regarding how the use of access control cards can help schools increase the participation in the federally funded program.
Johns points to research showing a 15 to 30 percent decline from elementary schools to high school for participation in the USDA National Lunch programs. He believes school cafeteria managers can set up systems where the register reads the student's ID card to see if they are enrolled in an income database that qualifies them for the federal subsidized breakfast and lunch program. For one school system with 4,000 students, a 5-percent increase in the USDA subsidized program can mean nearly $80,000 in additional funding.
Access control cards also can monitor high-value equipment such as classroom scientific scales or computer equipment. Orchid says school districts can place RFID tags onto items for quick location by school administrators.
However, school districts also need to focus on training faculty and staff to spot possible problems before escalating into tragedy. Walser said ongoing training helps schools respond to possible incidents.
A Quick Response
When a student told one of Steinocker's colleagues a student had a gun in school, the teacher quickly contacted school security to investigate the matter. When the campus security staff found the weapon in the student's locker, the student was taken to an administrator who learned the student was going to shoot a fellow student for taunting him.
"The surprising thing is that most of the incidents of violence have involved kids that have been bullied or who are misfits in school," Cowell said. "It's not the gang kids who use guns in school. These students still have a belief that school will help them better themselves."
As a safeguard to spot possible problems, a former New York high school principal said he recommends schools encourage journaling in English or social studies class. Many students will document possible problems or issues in their journals. Teachers should forward this to the principal, even if it's written in a personal diary.
"You can't safeguard confidentiality when school safety is involved," Cowell said.
Safeguarding schools is an option that requires everyone in the educational process to pay attention to the possibility of incidents.
"Schoolchildren today have to know that if they contact an administrator or security officer, they will respond," Cowell said. "For every school shooting, 100 more have been prevented because the students, teachers or principals spotted a student with issues."
About the author
Matt Scherer
Matt Scherer is a freelance technology marketing consultant based in San Antonio. He is a frequent contributor to security-related and technology publications.
Click
here
to visit the Security Products homepage.
- The Hackett Security Team